It's spring here in New York City and pastels are everywhere. From the runways, to the streets of SoHo, we're seeing candy colored looks on everyone. My stylist Michelle is always challenging me to try something new and out of my comfort zone. (Who remembers my crazy Jimmy Choos??) When she came over to my apartment with a mountain of color, I had no choice but to take up her street style challenge. Together, we styled two easy ways to introduce pastel colors into your closet.
Like many people since the beginning of the pandemic, I've been living in sweats. A matching Topman pastel sweatsuit from ASOS was a great place to start. Michelle always says that a matched set is an easy way to look polished and expensive. It's super comfortable, and I like that I feel like myself. My Nike sneakers were a birthday gift from my assistant Olivia, and I love how the pastel colors of the sweatsuit and sneakers complement each other. In NYC the weather can be all over the place, so you always need a few comfy warm pieces to roll out of bed and head to the gym or grab a quick bite at night with friends.
For my next look, we dialed it up a notch with a pastel color statement piece: these lilac suit pants. Typically, I would grab a more traditional navy or black dress pant, but Michelle showed me a picture of Timothée Chalemet in a pink suit and I decided to just go for it. We couldn't find a suit with the right fit, but we found these Topman pants (also on sale!) and paired them with a fitted white dress shirt, brown shoes from my closet, and my friend's boujee Hermès belt. I probably would have never picked these pastel pants for myself, but they make me feel like a movie star at a fancy spring rooftop party.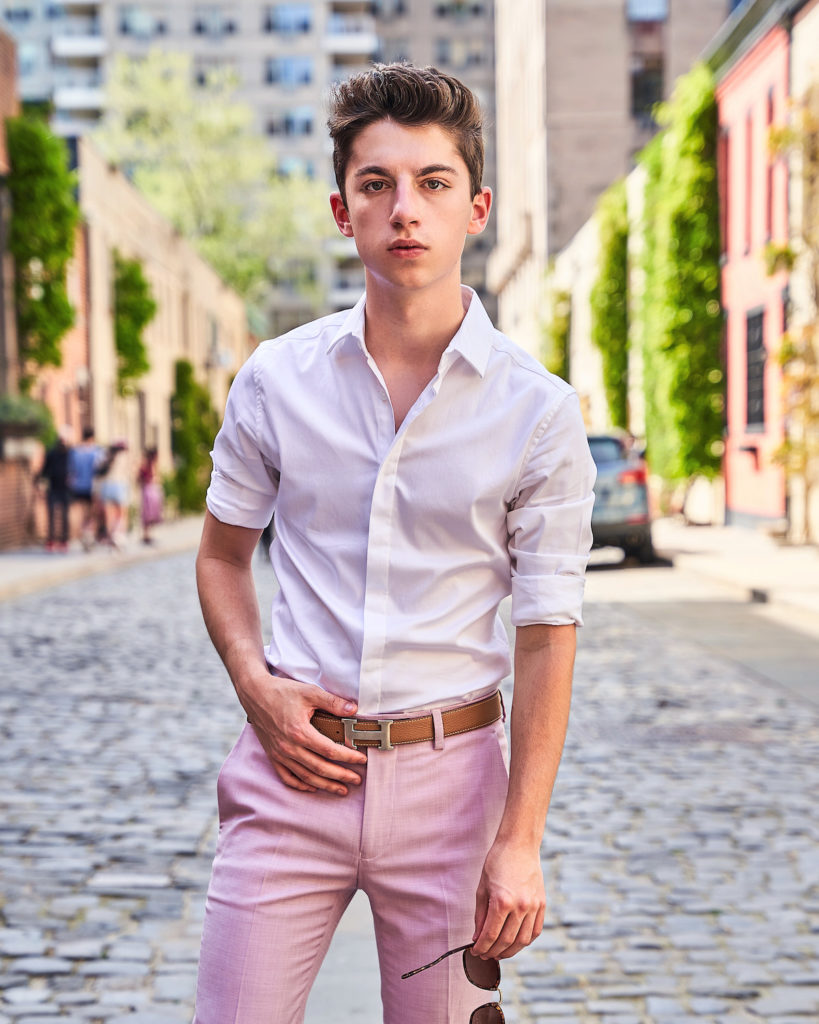 Overall, I thoroughly enjoyed my pastels menswear challenge. Every piece I'm wearing cost me under $100, so you can steal my colorful pastel street style even if you're on a budget. I wear a lot of Topman and I love their fit and size inclusive range of XXS-3X. My Topman size is XXS and XS, and 9/10 times it's a keeper.
I wear a lot of high and low end menswear and I'm always down to thrift for second hand pieces. I love experimenting with fashion and Michelle says she has a few more ideas up her sleeve. To be honest, I'm a little afraid…but I'm ready!
All products featured on EitanBernath.com are independently selected by our editors. However, when you buy something through our retail links, we may earn an affiliate commission.