I am really honored to announce that I was chosen as one of the 36 Under 36 by The Jewish Week! Last night I attended the big event and had fun getting to know the other amazing individuals chosen. I wire this GQ inspired outfit, complete with my crazy awesome Jimmy Choo shoes. They are always a great conversation starter at events because people can't get over them! If you want to read the article, you can click HERE or it is in this weeks edition of The Jewish Week in print. Also, you can shop my look, below!
Shop My Look
Jacket: English Laundry Navy Suit – LINK (Similar)
Shirt: Zara Men's White Shirt W/ Red & Blue Dots
Pants: Zara Black Technical Suit Trousers – LINK
Belt: Men's Black Leather Belt – LINK (Similar)
Shoes: Men's Jimmy Choos – LINK (You can find similar here.)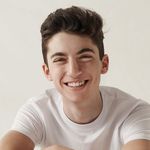 Eitan Bernath
Eitan Bernath is a chef, food & lifestyle content creator, entertainer, TV personality, and entrepreneur, best known for his viral videos on social media that showcase his cooking expertise and captivating personality.