Recipes I Cooked For Lilly Singh!

Hey guys! I just had the best day ever! Not only did I have the pleasure of meeting and cooking for one of my favorite people ever, Lilly Singh (@Lilly), she was as amazing (and funny) in person as she is on camera. For many years now, Lilly has been a big inspiration for me, whether it terms of learning from her amazing work ethic, success, entertaining videos, or her unapologetic support of gender equality. She is so genuine and incredibly talented. It was honestly a dream come true to be invited to Lilly's home to make her food and spend time with her and her amazing team.
We each posted a video, one on my channel and one on hers! You can watch them both below. Also, I included links to the recipes of the food I made for Lilly. Also, I have been getting tons of requests for the Pipoca Cookies recipe. Stay tuned for a video and recipe for how to make that!
If you haven't seen it already, here is the video I posted with Lilly on my channel where you can see everything I cooked for her:
Also, I was featured by Lilly in her vlog! You can watch it right here: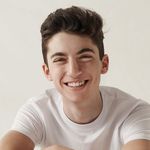 Eitan Bernath
Eitan Bernath is a chef, food & lifestyle content creator, entertainer, TV personality, and entrepreneur, best known for his viral videos on social media that showcase his cooking expertise and captivating personality.