My Heirloom Tomato Caprese Pizza is here to solve all the problems with caprese that you didn't even know you had. The thing about traditional caprese is that it requires you to work for it. At a minimum, you're cutting little pieces of tomato and mozzarella, piling them onto your fork or a crostini, and hoping it all makes it into your mouth instead of the table. Please don't get me wrong: I love caprese! It's delicious, and beautiful, and easy to make – but it's messy, and assembling the perfect bite with a little of each component takes effort. You know what solves all of those problems? Putting all of those ingredients on a PIZZA! And you know what makes it even more delicious and beautiful in the summer? Fresh heirloom tomatoes, a bright, garlicky basil pesto, and drizzle of sweet balsamic glaze. My pizza dough couldn't be simpler to make, and I've tested this recipe for standard ovens, so no special equipment required. This pizza is summer in a pie!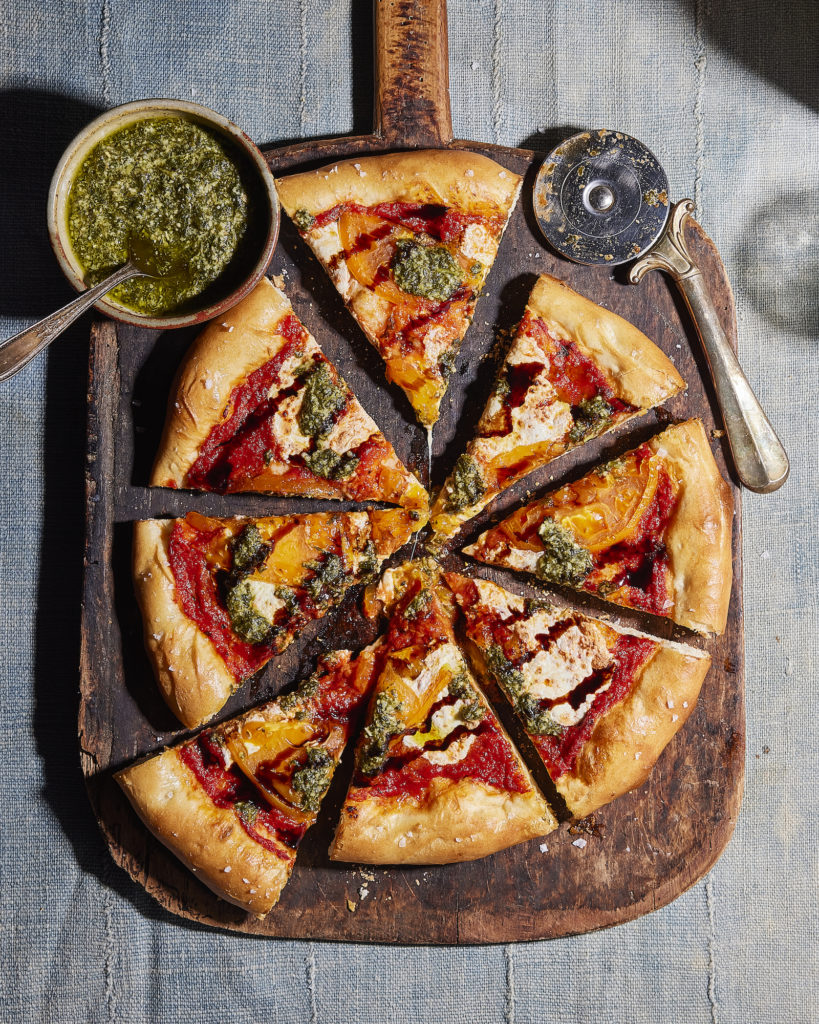 Heirloom Tomato Caprese Pizza
Servings:
3
12-inch pizzas
Ingredients
For the Dough
1 ½

cups

warm water

1

teaspoon

sugar

1

¼ ounce packet active dry yeast

5

cups

600 grams bread flour (I use King Arthur)

3

tablespoons

extra virgin olive oil

1

teaspoon

kosher salt
For the Sauce
1 28-

ounce

can whole peeled tomatoes

2

garlic cloves

grated

2

tablespoons

unsalted butter

1/2

teaspoon

dried oregano

1/2

teaspoon

salt

1/4

teaspoon

red pepper flakes
For the Pesto
2

cups

packed fresh basil leaves

1

garlic clove

smashed

¼

cup

grated parmesan cheese

2

tablespoons

toasted pine nuts

Juice of ½ lemon

about 2 tablespoons

1/4

teaspoon

salt

½

teaspoon

pepper

½

cup

extra virgin olive oil
For the Assembly
Coarse cornmeal

for dusting

1 8-

ounce

ball fresh mozzarella

very thinly sliced

1

yellow heirloom tomato

thinly sliced into half moons

Kosher salt

to taste

Balsamic glaze

for drizzling
Instructions
For the Dough
In the bowl of a stand mixer, add warm water, sugar, and yeast. Cover with a tea towel and let proof for 5 minutes. Yeast should foam and smell like bread; if it doesn't, your yeast is dead, and you should start over with fresh yeast.

Once proofed, add flour, drizzle oil over evenly, then sprinkle salt over evenly. Place bowl on stand mix with dough hook attachment, and mix on medium until dough forms a clean ball, about 1 minute. Continue kneading for 5 minutes; dough should pull away cleanly from sides and bottom of bowl, and be smooth and not sticky when poked with a clean finger.

Transfer dough to a greased container and cover with a lid or plastic wrap. Place in a warm place until doubled in size, about 1 hour.

Once doubled, punch down and divide into thirds. (I weigh the dough and then divide by 3 to get perfect thirds, but you can also eyeball it.) Place on a parchment-lined sheet pan and cover with greased plastic wrap. Set aside until puffed and some visible bubbles appear on the surfaces, 45 to 60 minutes.

While dough rises, make sauce and pesto, and slice toppings.
For the Sauce
Place can of tomatoes in a food processor and puree until fairly smooth, but not completely liquid (you want some texture from the tomatoes to remain). You can also use a hand blender to puree tomatoes directly in the can.

Transfer pureed tomatoes to a large pot, along with remaining sauce ingredients, and bring to a simmer over medium heat. Reduce heat to medium-low, and cook until sauce has thickened and flavors are concentrated, 40 to 45 minutes, stirring occasionally.

Transfer sauce to an airtight container and allow to cool slightly before covering and refrigerating until ready to assemble pizzas. Sauce can be made up to 3 days in advance.
For the Pesto
Combine basil, garlic, parmesan, pine nuts, lemon juice, salt, and pepper in a blender or food processor, and blend on low to chop and combine all ingredients. Slowly stream olive oil in with machine on low until ingredients are homogenous and blend smoothly.

Transfer pesto to an airtight container and refrigerate until ready to assemble pizzas. Pesto can be made up to 3 days in advance.
Assemble and Bake Pizzas
Preheat oven to 500F, with a pizza stone or heavy duty sheet pan on bottom rack as it does. Allow stone to heat for at least 30 minutes once oven is preheated before assembling pizzas. Alternatively, heat your pizza oven according to manufacturer's instructions.

Once ready to bake, dust pizza peel liberally with cornmeal.

Carefully stretch a ball of dough into a 12-inch circle, keeping a thicker rim of dough around the edge for the crust. My preferred method for this is to lift the dough in the air and drape it over the back of my cupped hands, shuffling hands under the dough constantly so that it rotates and gravity stretches the dough into an even circle as it moves.

Place dough on peel, then add about ½ cup sauce and spread evenly, leaving a 1-inch border of crust sauceless. Add ⅓ of the cheese, tearing slices for more even coverage if needed, then add 4 or 5 slices of tomato. Season tomatoes with salt, then carefully and quickly transfer pizza from peel to pizza stone.

Bake for 12 to 15 minutes, or until crust is puffed and golden, cheese begins to brown, and bottom is crisp.

Remove from oven with peel and place on a racked sheet tray to cool for 5 to 10 minutes before transferring to a cutting board. While pizza is cooling, assemble and begin baking the next. Repeat with remaining dough until all pizzas are cooked.

Once pizza has cooled, dollop with pesto and drizzle with balsamic glaze. Slice into eights and serve hot.