Ombré Citrus Upside-Down Cake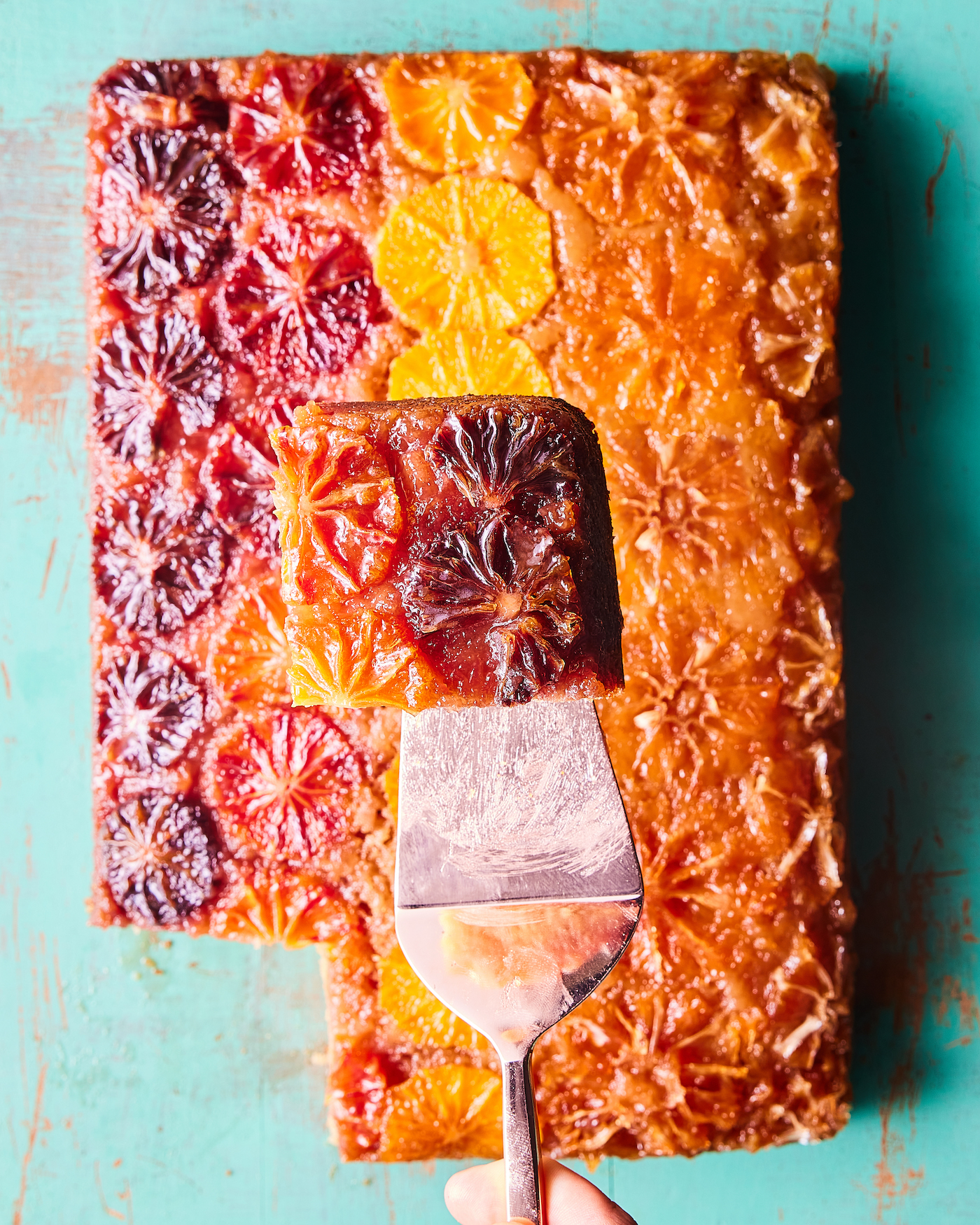 This cake is truly a celebration of winter's best (and almost only?) fruit: citrus! We thank you, Winter, for all you have to offer us! This recipe is also a beautiful display of the many colors of citrus, and might I add, a welcome reprieve from the browns and beiges we see in so many cold weather recipes. I chose grapefruits, oranges, blood oranges, and Meyer lemons for an ombre effect, but any sliced citrus will work beautifully here. The citrus slices are layered on top of a generous amount of butter and brown sugar, then topped with a rich vanilla cake that's somewhere between a sponge cake and a pound cake. Once the cake is flipped upside down after baking, you have a sticky, almost-dense, perfectly moist cake topped with tangy citrus, and brown sugar syrup that almost candies the fruit. This one is both a show stopper and a gorgeous pop of color in the dead of winter!
---
1.

Mix Up the Fruit!

I chose citrus since it's in season and the ombre effect is beautiful, but you can use almost any thinly sliced fruit here, or just one type of citrus. Meyer lemons can also be hard to find, so they can be replaced with lemons for a delicious (but tart!) slice.
---
2.

Sour Cream Substitutions

The sour cream in this cake adds acidity for the leavening agents and lots of moisture, but it can be replaced with yogurt, or even ¾ cup buttermilk!
---
3.

Storage Info

This cake keeps very well in an airtight container on the counter for 3 to 5 days. It can also be frozen for up to 3 months and defrosted, uncovered, at room temperature for a couple of hours.
Ombré Citrus Upside-Down Cake
Total Time
1 hour, 35 minutes
Ingredients
For the Citrus Ombré Topping
3 whole grapefruits
4 whole oranges
4 whole blood oranges
6 whole Meyer lemons
½ cup sugar
¼ cup light brown sugar
¼ cup (½ stick) butter
For the Cake
1 ¾ cups all-purpose flour
1 teaspoon baking powder
½ teaspoon baking soda
½ teaspoon salt
½ cup (1 stick) unsalted butter, softened
1 cup granulated sugar
2 large eggs
½ cup whole milk
½ cup sour cream
1 teaspoon pure vanilla extract
Instructions
Preheat oven to 350°F.
Use a sharp knife to cut top and bottoms from all citrus, so that flesh is just exposed. Place fruit on a flat side, then trim pith and peel away in a curved motion, so that fruit retains a round shape. Turn fruit onto a round side, and slice into ¼ inch thick rings. Place fruit onto a racked sheet tray in a single layer and set aside.
In a small saucepot, combine sugars and butter over medium heat. Cook, stirring occasionally, until butter is melted and ingredients are well combined, 3-5 minutes.
Pour sugar and butter mixture into a 9×13 pan, tilting to ensure it spreads into an even layer across the entire pan. Arrange cut fruit in rows, wedging tightly to cover the entire surface. To create an ombre effect, arrange fruit in this order: blood orange, orange, grapefruit, then Meyer lemon. Start at the top left corner and create horizontal rows, from left to right, until pan is filled. Set aside.
In a large mixing bowl, whisk together flour, baking powder, baking soda, and salt. Set aside.
In the bowl of a stand mixer fitted with a paddle attachment, cream butter and sugar together on medium speed until light and fluffy, 4-5 minutes. Add eggs, milk, sour cream, and vanilla, and beat on medium low speed until well combined, 3-4 minutes. (Do not worry if sour cream does not fully incorporate and mixture appears curdled.) Add dry ingredients and mix on low speed until just combined, 1-2 minutes, scraping down the sides and bottom of the bowl halfway through.
Gently pour batter into pan over fruit, and use an offset spatula to spread into an even layer. Place on middle rack of the oven, and bake until a toothpick inserted into the center comes out with moist crumbs, 40-50 minutes.
Allow to cool on a wire rack for 20 minutes, then run an offset spatula or butter knife around the edges to help cake release from pan. Place a tray or platter on top of the pan, then carefully invert the cake onto the tray. Remove the pan, and replace or rearrange any fruit that stuck or shifted in the process.
Cut into squares and serve warm.
© 2022 Eitan Bernath Productions, LLC.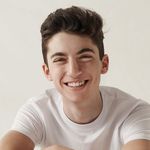 Eitan Bernath
Eitan Bernath is a chef, food & lifestyle content creator, entertainer, TV personality, and entrepreneur, best known for his viral videos on social media that showcase his cooking expertise and captivating personality.