Strata is the incredible thing that happens when you cross a frittata and a bread pudding together into one, savory dish! My strata recipe has everything you could possibly want for breakfast: protein from the eggs, carbs from the bread, nutrient-rich spinach, mushrooms, and onions, and tons of umami and tang from Parmesan cheese and Dijon mustard! All of this bakes up into one delicious package, with slices that are eggy and custardy in the middle, yet crunchy and toasted on top. I highly recommend a few dashes of your favorite hot sauce for serving, because the acidity and spice balances out the rich flavors of the strata perfectly. If you need to entertain a bunch of people, especially in the morning, this dish will more than satisfy a crowd, especially in the cold winter months!
---
1.

What is a Strata?

It's an Italian casserole that's made with eggs and bread, usually with vegetables and meat mixed in, so as long as you're baking your eggs and your cubed bread, you're making strata! 
---
2.

Make Ahead

This dish is so incredibly make ahead friendly! You can mix everything together the night before, refrigerate it, and then bake it off in the morning, or you can make it the day before, and warm it in the oven, or even slices in the microwave, the next morning!
---
3.

Use Your Favorite Veggies!

This recipe will adapt to almost any mix of your favorite vegetables, meats, and cheeses. If you have leftover vegetables, or some that are languishing in your vegetable drawer, this recipe is the perfect way to make sure they don't go to waste.
---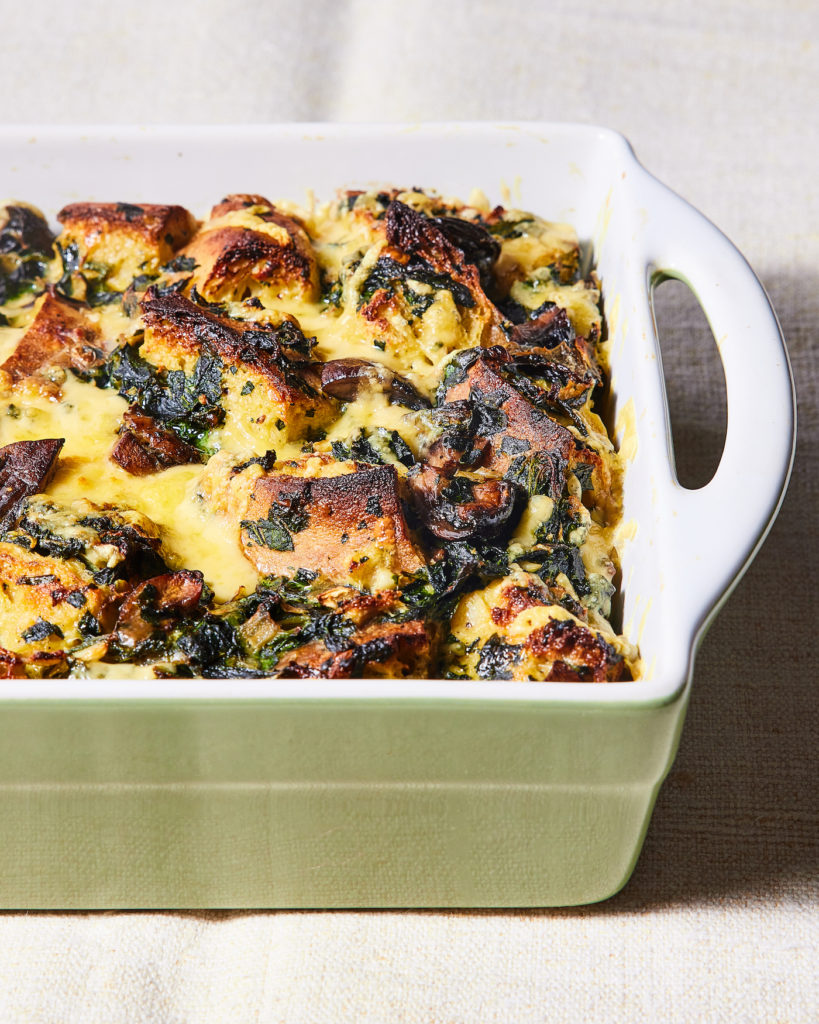 Spinach and Mushroom Strata
Total Time
1 hour, 15 minutes
Ingredients
Butter, for greasing pan
¼ cup neutral oil
1 pound mixed mushrooms, such as oyster and cremini, trimmed and quartered (about 6 cups)
1 medium yellow onion, chopped (about 1 ½ cups)
1 pound frozen spinach, thawed and excess water squeezed out
6 medium garlic cloves, roughly chopped
½ teaspoon kosher salt, plus more to taste
½ teaspoon freshly cracked black pepper, plus more to taste
12 large eggs
1 cup half and half
1 cup freshly grated Pecorino or Parmesan cheese
1 tablespoon Dijon
⅛ teaspoon freshly ground nutmeg
7 ounce loaf ciabatta, cut into 1 ½ inch cubes (about 5 cups)
1 cup shredded Gouda, divided (about 6 ounces)
Instructions
Grease a 9×13 pan with butter and set aside.
In a 12 inch skillet over medium high heat, add oil. Once shimmering, add mushrooms and cook undisturbed for 3 minutes. Stir mushrooms and cook for an additional 3-4 minutes, or until edges of mushrooms begin to brown. Next add onions and stir to combine with mushrooms and oil. Cook for 3-4 minutes, or until onions begin to soften and caramelize around the edges. Add spinach and garlic and stir to combine. Season with a generous amount of salt and pepper and cook for 1 minute. Taste and adjust seasoning as needed. Transfer to a medium mixing bowl and chill in refrigerator until cool to the touch, about 10 minutes.
In a large mixing bowl, whisk eggs for 30 seconds, or until egg yolk and white are fully combined. Add half and half, Pecorino or Parmesan, Dijon and ½ teaspoon salt and pepper and ⅛ teaspoon nutmeg. Whisk again to combine. Then add cooled vegetable mixture, bread and half of the gouda and gently fold to combine. Allow to soak for 20 minutes and preheat oven to 350°F.
Pour into buttered baking dish and sprinkle top with remaining cheese. Bake for 35-40 minutes, or until eggs are fully set (test using a toothpick) and edges of bread are golden brown.
© 2022 Eitan Bernath Productions, LLC.