Baked Feta With Honey, Fried Almonds and Calabrian Chilies

Lots of Thanksgiving tables have baked brie on them, but how many have baked FETA? Mine does, and now yours does, too! Salty, tangy feta gets covered in honey, fresh thyme, and fruity, mildly spiced Calabrian chilies before it's baked until bubbling and slightly golden. It's topped off with fried almonds for nuttiness and crunch, and all of those flavors piled on top of a crostini are exactly what you want before your big Thanksgiving meal. This appetizer comes together in less than 30 minutes, is filling but not TOO filling, and most importantly, is insanely delicious!
---
Baked Feta With Honey, Fried Almonds and Calabrian Chilies
Ingredients
½ cup vegetable oil
¼ cup raw almonds
1 (16 ounce) block of feta cheese in brine
1 tablespoon olive oil
¼ cup honey, divided
3 Calabrian chilies, thinly sliced, or other small pickled pepper, such as cherry peppers
2 teaspoons fresh thyme leaves
Freshly ground black pepper, to taste
Kosher salt, to taste
Crackers or crostini, for serving
Instructions
Preheat oven to 400°F. Line a plate with paper towels and set aside.
In a small sauce pot, add vegetable oil and heat over medium high heat for 2-3 minutes, or until oil is hot and shimmering. Carefully add almonds to oil, and fry until skins are dark brown, 30 seconds to 1 minute. Remove from oil with a slotted spoon and place on prepared plate to drain. Immediately sprinkle almonds with salt and set aside to cool.
In a medium, rectangular baking dish, add olive oil and tilt pan to evenly coat the bottom of the dish. Place feta into the center, then drizzle with 2 tablespoons of honey and sprinkle chilies and thyme evenly over top. Season with freshly ground black pepper, and place in oven to bake until cheese begins to brown and chilies are sizzling, 25-30 minutes.
While the feta bakes, roughly chop the fried almonds.
Remove feta from the oven and immediately sprinkle almonds over top, and drizzle with remaining 2 tablespoons of honey.
Serve warm, with crackers or crostini for dipping.
© 2022 Eitan Bernath Productions, LLC.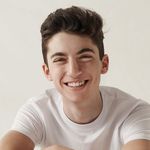 Eitan Bernath
Eitan Bernath is a chef, food & lifestyle content creator, entertainer, TV personality, and entrepreneur, best known for his viral videos on social media that showcase his cooking expertise and captivating personality.