I love biscuits! They are every good thing: buttery, flaky, carby, bready, and in this case, cheesy! What's better than one or two biscuits you ask? How about a whole, massive LOAF of biscuit! Not only is this a delicious way to accomplish your daily biscuit intake, but it also saves time since it requires no rolling of dough or cutting and recutting of biscuits. This loaf is moist, tender, and packed with flavor, and is perfect for the next time you're hosting brunch. I went with classic additions here: sharp cheddar cheese and fresh chives, and trust me, it makes an already great recipe that much better. The whole loaf gets brushed with even more butter halfway through the baking process, and when you see, smell, and TASTE this Cheddar Chive Biscuit Quick Bread perfection, you may never go back to traditional biscuits again!
---
1.

Quick Bread 101

Quick breads are called quick because they rely on baking soda and/or baking powder to rise in the oven, instead of yeast. Chemical leavening agents work much more quickly than yeast, hence the name, quick breads. Common quick breads are often sweet, like banana bread or zucchini bread, but this savory cheese and chive one will blow your mind!
---
2.

Customize the Mix Ins!

Cheddar and chive are a classic combo, but you could add lots of savory mix-ins to this loaf. Almost any cheese and herb combination would be great. You could go fancy, and do parmesan and rosemary, or try mixing in smoked gouda to add a great, savory, smoky flavor to the loaf!
---
3.

Buttermilk

Buttermilk can be hard to find, or you may not want to buy a half gallon of it, only to use a cup and a half. Although this loaf will always taste best with full fat buttermilk, you can make your own at home by adding a tablespoon of white vinegar to 1 ½ cups whole milk and letting it sour while you prepare the other ingredients.
---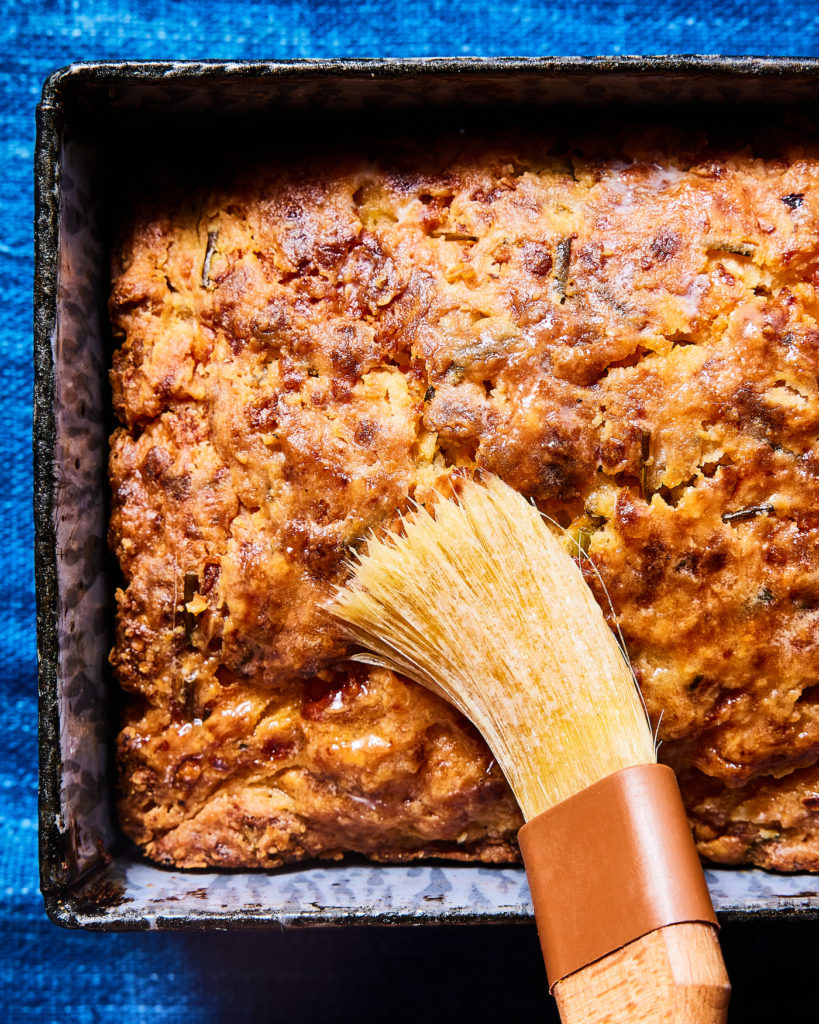 Cheddar Chive Biscuit Quick Bread
Total Time
1 hour, 10 minutes
Ingredients
3 cups all purpose flour (422 grams)
2 tablespoons sugar
1 tablespoon baking powder
¾ teaspoon kosher salt
½ teaspoon freshly cracked black pepper
1 ½ cups grated cheddar cheese
½ cup frozen butter (1 stick), grated, plus more butter for brushing and serving
1 small bunch chives, cut ¼ inch long (about ⅓ cup)
1 ½ cups buttermilk
Instructions
Preheat oven to 350°F. Lightly grease a 9 x 5 bread pan with nonstick spray, then line with parchment and set aside.
In a large bowl, add flour, sugar, baking powder, salt and black pepper. Whisk to combine. Then toss cheddar cheese, butter and chives into flour mixture and gently tumble around with your hands until all ingredients are fully coated in flour. This will help prevent the cheddar and chives from sinking to the bottom. Pour in buttermilk and gently fold into flour mixture, it may seem dry, but continue to mix until all of the flour is absorbed.
Pour into prepared pan and bake for 30 minutes, then remove from oven and brush entire top with butter. Continue baking for an additional 25-30 minutes, or until a toothpick inserted comes out clean and the top is golden brown.
Cool inside bread pan for 10 minutes, then transfer to a wire rack and cool completely. Slice and serve plain, or with additional butter if desired.
© 2022 Eitan Bernath Productions, LLC.