Today we're making a fried chicken sandwich with HOT honey and apple slaw! Maybe this isn't the Rosh Hashanah recipe you expected, but it's one I'm so excited to share with you and know you're going to love. Since I developed recipes for Rosh Hashanah last year, I've expanded my team, and two of my Culinary Producers, Rachel Dolfi (@rachelanndolfi) and Olivia Anderson (@olivia_and), happen to be from nearby towns in North Carolina. It's been so fun to have two southerners learning more about Jewish holidays and food traditions that they aren't familiar with, and equally fun for me to learn about their southern food traditions, too. When we talked about a recipe for Rosh Hashanah this year, they came up with an idea to do this fried chicken sandwich, and incorporate the apples and honey in unconventional ways. Let me tell you, I now feel like I've learned how to make the BEST homemade fried chicken – read below for the secret to the best, crunchy coating! – and my team agreed that the addition of apple slaw and a hot honey drizzle make it one of the best fried chicken sandwiches they've ever had. Who knew that all the classic fried chicken sandwich needed was a JewishXSouthern collaboration?!
---
1.

Hot Honey

This hot honey really packs a punch, but of course you can dial the volume of peppers back to your spice preference. If you use all the peppers in the recipe, make sure your kitchen is well-ventilated during the cooking process!
---
2.

Slaw & Food Waste

Slaw is a great way to use up extra veggies that may otherwise go bad in your kitchen. I think the apples and celery are a must here, but have fun mixing up the veggies in this slaw otherwise!
---
3.

The Secret to Crispy Skin

It's all in the coating! This flour starts out HEAVILY seasoning for tons of flavor, then buttermilk (I used non-dairy) is dripped into the flour until it's slightly clumpy and craggy, before the chicken goes back in for a second coating. The wet, seasoning flour sticks to the chicken, and those bits get the crispiest and crunchiest when they're deep fried!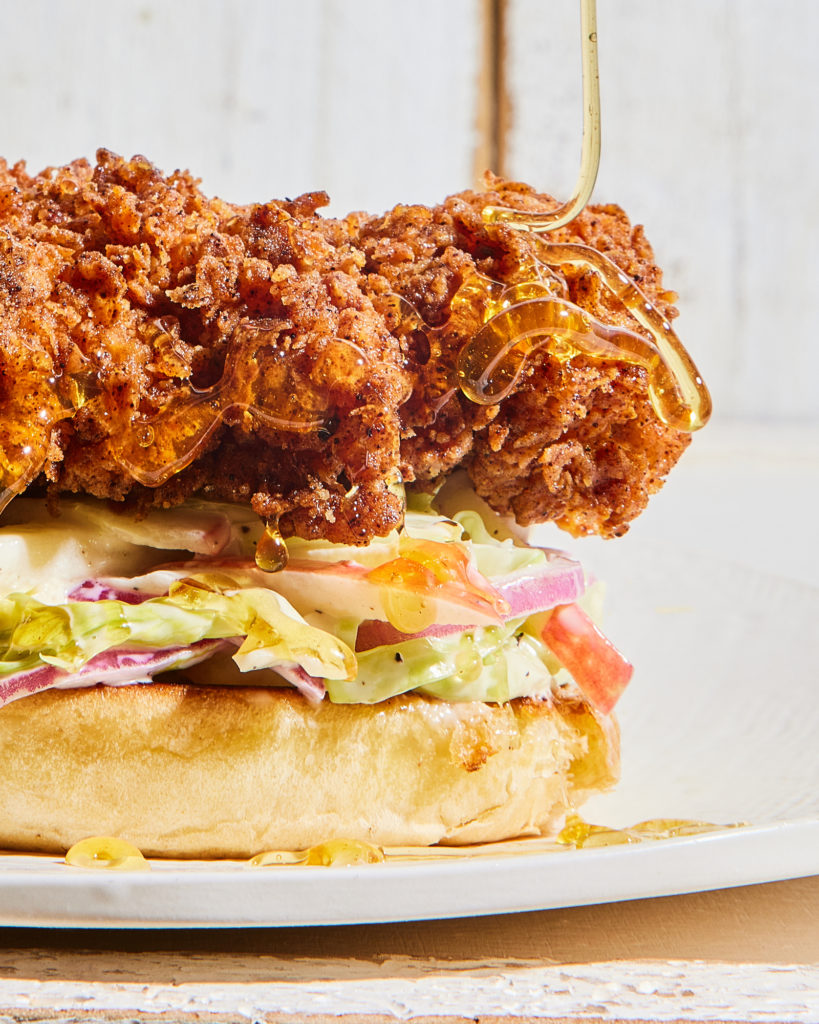 Fried Chicken Sandwich with Hot Honey and Apple Cabbage Slaw
Total Time
1 hour, 10 minutes
Ingredients
For the Fried Chicken
4 chicken thighs
½ cup pickled pepper liquid, such as cherry or banana peppers, peppers reserved
Vegetable oil, for frying
For the Hot Honey
2 Pasilla chilies, destemmed and deseeded, 1 inch
1 chile de árbol, destemmed
2 tablespoons black peppercorns
½ cup honey
4 garlic cloves, thinly sliced
For the Apple Cabbage Slaw
½ cup mayonnaise
2 tablespoons reserved diced pickled peppers
2 tablespoons white vinegar
1 teaspoon honey
1 teaspoon salt
½ teaspoon black pepper
1 Pink Lady apple, cut into matchsticks
1 ½ cups sliced green cabbage
3 ribs celery, sliced thinly on the bias
⅓ cup packed celery leaves
½ cup sliced red onion
For the Dredge Mixture
1 ½ cups all purpose flour
2 tablespoons hot paprika
1 tablespoon baking powder
1 teaspoon garlic powder
1 teaspoon celery seed
1 teaspoon kosher salt
½ teaspoon mustard powder
½ teaspoon black pepper
1 cup buttermilk or plant based buttermilk substitute
For Serving
4 brioche buns, lightly toasted
Instructions
For the Fried Chicken
In a large resealable bag, add chicken and pickled pepper liquid. Squish the chicken around in the brine to ensure it covers the chicken fully. Refrigerate for at least an hour, and up to 6.
For the Hot Honey
In a medium saucepan over medium low heat, add chilies and toast for 2 minutes, or until fragrant and skins darken slightly. Add black peppercorns, shaking the pot continuously, and toast until fragrant, about 30 seconds. Then add honey and garlic and bring to a simmer. Cook for 5 minutes, or until the flavors have married.
Remove from heat and allow to cool slightly for 2-3 minutes.
Set a fine mesh strainer over a medium mixing bowl and pour honey through strainer, discarding the solids. Set aside.
For the Apple Cabbage Slaw
In a large bowl, add mayonnaise, peppers, vinegar, honey, salt and pepper and whisk to combine. Then add in remaining ingredients and toss to combine. Cover and refrigerate until ready to serve.
For the Dredge
Combine all dry ingredients in a large mixing bowl.
In a medium bowl, add buttermilk or plant based buttermilk. Then, drizzle 3 tablespoons of buttermilk into dry ingredients. Work the buttermilk into the dry mixture until large, craggy shapes form. Set both bowls aside.
Add 2-3 inches of oil in a Dutch oven or deep pot over medium heat and heat to 400°F. Line a sheet tray with paper towels and set aside.
Remove chicken from brine and place into buttermilk, allowing any excess buttermilk to drip off. Transfer into dredging mixture, pressing firmly into dredge. Flip and repeat, shaking off any excess flour. Be sure to coat chicken in flour just before it is ready to fry.
Carefully add 1-2 chicken thighs to the oil and cook for 4-6 minutes, depending on size. Transfer to a paper towel lined sheet tray and salt assertively. Repeat with remaining chicken.
For Assembly
Add a generous amount of slaw to each bottom bun. Top with fried chicken, then drizzle chicken with desired amount of hot honey. Serve immediately.
© 2022 Eitan Bernath Productions, LLC.