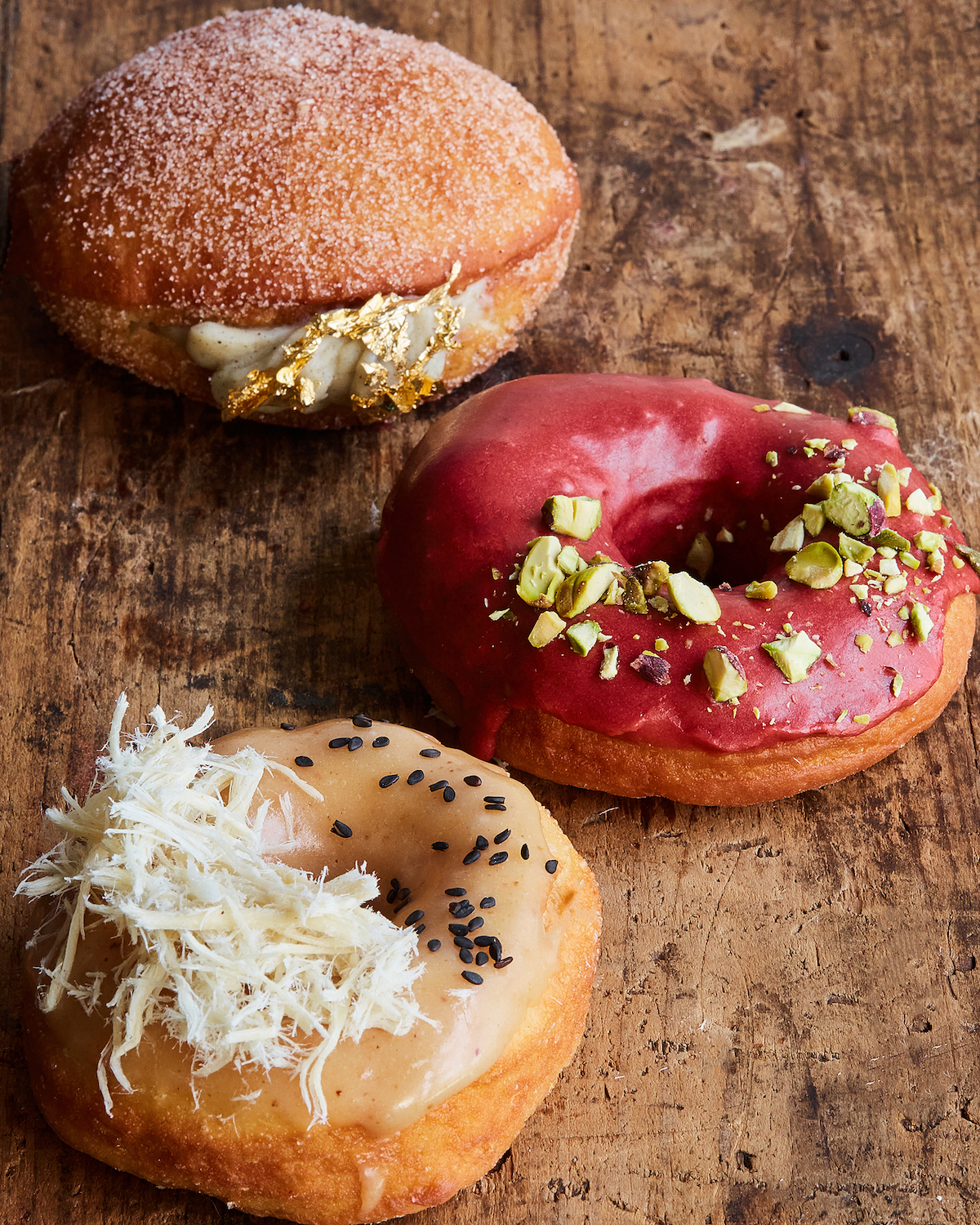 Blood Orange & Pistachio Donuts
Ingredients
For the Donuts:
2 packages active dry yeast
1/2 cup warm water
1 1/2 cups milk
5 tablespoons butter
2 whole eggs
1/4 cup sugar
2 teaspoons salt
6 - 6 1/2 cups all-purpose flour, plus more for dusting surface
Vegetable oil, for frying
For the Blood Orange Icing & Pistachios:
1 blood orange, juiced
2 cups powdered sugar
2 tablespoon butter, melted
8 drops red food coloring
1 drop blue food coloring
¼ cup pistachios, chopped
Instructions
For the Donuts:
Pour warm water into the bowl of a stand mixer with the dough hook attachment. Sprinkle the yeast over the water and allow to proof for 5 minutes. Meanwhile, heat up the milk and butter in a small pot, until the butter is melted. Once melted, remove from the heat and allow to cool to below 110 degrees Fahrenheit. If the liquid is too hot, it can kill the yeast.
Add the eggs, sugar, salt, warm milk mixture, and half of the flour to the bowl. Turn on the mixer on a slow speed and mix until well combined. Turn up the speed to medium and add in the remaining flour. Mix until it comes into a ball of dough. Dump out the dough onto a floured surface and knead by hand for about 4 minutes, until smooth.
Place dough in a large greased bowl, cover with a linen towel and allow to rise for 1 hour or until doubled in size.
Roll out the dough on a floured surface to 1 inch thick. Cut the doughnuts into circles using a doughnut cutter or 4 and 1 inch cookie cutters. Set on a floured baking sheet, cover lightly with a tea towel, and let rise for 30 minutes.
Preheat the oil in a large pot to 350 degrees Fahrenheit. Gently place the doughnuts into the oil, 1 to 2 at a time. Cook for 1 minute per side then transfer to a cooling rack. Allow to cool for at least 5 minutes before glazing.
For the Blood Orange Icing & Pistachios:
For the blood orange icing, add ¼ cup blood orange juice, powdered sugar, butter and food coloring in a medium bowl and stir to combine. Dip the top of doughnuts in the glaze, allowing the excess to drop off. Place on a racked sheet tray. Let harden for 3-5 minutes then top with a sprinkle of pistachios.
© 2022 Eitan Bernath Productions, LLC.